At the Academy of SM Arts, we teach solid psychological and practical skills to enhance your play. Our staff, diverse in terms of gender, orientation and interests, enables us to offer weekend intensives and classes that are welcoming and inclusive of people of varying skill levels, ages, and kink and all genders and sexual orientations. All faculty share my enthusiasm for BDSM as a path to making your play sexier and more connected. We believe in the magic of BDSM and invite you to connect your heat, heart and spirit at the next Erotic Dominance Intensive Weekend.
Cléo Dubois, Academy Founder and Director When my journey into SM play started in the 80's, there were no comprehensive courses… offered in the community. Community groups such as Outcasts, Janus, Exiles, and QSM asked me to share my style with other kinksters, giving me a voice as an ethical and informed kink presenter and educator. (Read more)
Eve Minax, Lead Staff Instructor, Academy Administrator: An integral lifestyle and professional Domina, BDSM educator, and pleasure artist, Cléo says of Eve Minax that, "She is the kinkiest person I know!"  She delights in proliferating carnal knowledge with a spiritual bent and presents at numerous academic forums, sex shops, and alt sexuality conferences around the globe. (Read more)
Selina Raven, Instructor Selina Raven is an active member of San Francisco's SM community and began Mistressing professionally in 1998.  In 2000, Selina met my dear friend, Sybil Holiday, and was greatly honored when Sybil agreed to become her mentor and guide. I met Selina shortly after, and invited her to join the Academy. (Read more)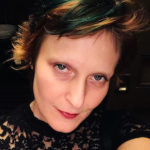 Susan Schuster, Space Manager, Assistant Administrator 

Susan and Cléo met during one of Cléo's flogging workshops in 2013 and has been the Space Manager/Administrative Assistant since 2019.  Susan sees BDSM as a force of connection and community, and feels incredibly fortunate to witness these principles at work during each Intensive.

(Read more)
JD, Guest Bondage Instructor
As his schedule permits, we welcome as guest teacher our friend, JD, formerly of the Two Knotty Boys.  JD, who teaches bondage techniques for the course, is the originator of Fusion Knotting–innovative knots created through the merging of different knot elements or knotting techniques.