By Marianne Messina and Cleo Dubois
In this interview with Marianne Messina, Cléo Dubois talks about how her personal journey into BDSM began, where to find information when you don't have a mentor, and how BDSM can help people grow in their erotic relationships. A longer version of this article, aimed at newbies and those who are "kink curious" appeared on www.adultFriendFinder.com in August 2004.
Download a PDF copy of this interview
---
---
Marianne Messina (MM): Can you briefly talk about your personal journey with BDSM and maybe what you've learned about the variety of options in the BDSM world?
CLÉO DUBOIS: I did not always know that I was kinky. In my 20s I loved to pick an argument with my lover, provoking him to get rough with me and then feel so sorry that he would do anything to please me! Well, that sort of manipulation totally disappeared from my life once I discovered my SM, the link that brought my sexuality into focus. I started to integrate all of the aspects of myself: brat, good girl, submissive, sadist, disciplinarian, mentor, control queen, Domina, mentor, slut, nurturer and ritualist.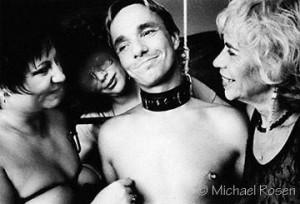 In the early 80's, with the encouragement of a kinky boyfriend, I began exploring the SM frontiers in the San Francisco Leather Community.  These fantasy/mind/body explorations were a powerful venue for my erotic fulfillment and self-discovery; they taught me that negotiated sadomasochism is a valid path to self-discovery, healing and intimacy. It didn't take me long to realize that I loved bottoming [being the one who submits] as well as topping [being the one who dominates], as long as it was consensual and negotiated.
I joined the first local SM education group, The Society of Janus [www.soj.org], attended all meetings and volunteered for everything: spanking, flogging, bondage, play piercing etc. Once I felt that I knew enough to be a safe player, I became a professional Dominant out of my passion for the Scene.
MM: Say someone's trying something for the first time — bondage, spanking, whatever — and they don't have the benefit of a mentor, how can they approach it safely?
CLÉO DUBOIS: First look into your fantasies, and follow your intuition. Decide what you are willing to actualize. So, you want to be a little brat and be spanked by "Daddy," or you, Mr. Businessman, want to be a lipstick lesbian for the evening, tied up and teased by your girlfriend? If you think that the time is right, bring it up in loving conversation with your partner and listen to their response. If someone paints a picture you don't feel you fit in, say so. You are the only one who can tell if the idea of doing something kinky turns you on or off. Listen to yourself.
Start slow whether you are the top or the bottom. It is a real good idea to leave your partner wanting just a little more, but it can be devastating for both of you, to hurt him/her by pushing yourself or them, whether you are the bottom wanting more or the top wanting more.
PAGES: 1  |  2  |  3
Next, where to get information, BDSM and erotic growth >>>